With over 30+ years of experience and great attention to detail
"Jorewiky Amplification"
specializes in tube restorations, including custom amplifiers as seen on this page.
This is just a small selection of the Custom Amps created by
"Jorewiky Amplification".
Thank you for visiting our site. Look around, if you have any questions or comments
please let us know
. Check out the Amps below...just some of our unique selections.
How about a Jorewiky 19 watter in a cabinet with a 12'' and 10''
23'' wide..23.5'' tall..9'' deep...46 lbs
12AX7 preamp........EL84 output
Channel 1...clean Channel 2...more in your face, good sustain,
Mucho harmonic content....
sweet switch for extra ''sauce''
Also available in a single 15'' version.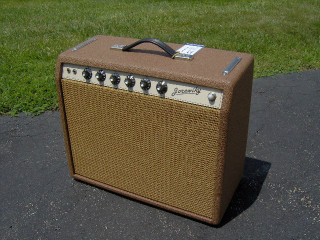 JOREWIKY........ ''Little Slugger''
20'' wide... 16'' tall... 8.5'' deep......38 lbs.
12AX7 preamp EL84 output 19 watt
Channel 1....Clean, Great for effects
Channel 2 Stunning Overtones, Uncanny touch sensitivity
Sweet Switch for extra ''Sauce''
Speaker 12'' Warehouse Black and Blue
Optional....Celestion, Weber, Jensen
Covered...Rough Brown Tolex.........Grill....Gold / Wheat
Other options available.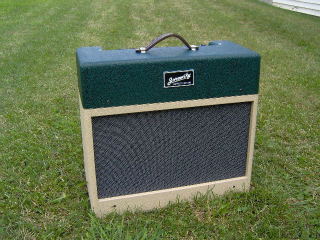 Model JA-40-1....22''wide 20.5''tall 9''deep...40 lbs.
12AX7 Preamp......EL84 Output 19 Watt
Channel 1....clean, great for effects, Channel 2.... More grit
Touch Sensitive........12'' speaker....Jensen P-12-N
More choices available.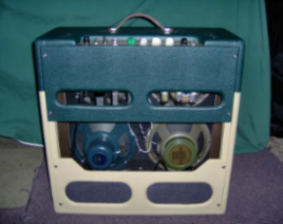 Model JA-40-2
23.5'' wide, 23'' tall, 10.5 deep, 49 Lbs
EF86 Preamp……5879 Preamp……….EL84 Output
Channel 1…….EF86 Preamp……..Easy overdrive…..Not in your face relatively clean, great for effects
Channel 2…….5879 Preamp……..More gutsy, and to the point, slide lives here, touch and go.
4--10'' speakers…….dissimilar Weber Silver 10-A-150 Celestion Greenback G-10 Weber 10-A-150-0 Weber Sig 10-A-S
Other combinations available……..Covering………………Green/ Crème Tolex Grille…………………Grey

Model…………Jorewiky PP1
22''wide 16'' tall 8.5'' deep 36 LBSEF86 Preamp, 5879 Preamp, EL84 Output, 19 watt
Channel 1…………EF86…Driven with the smooth, easy overdrive best known by early English amps.
Channel 2………….5879…More gutsy and to the point. Great touch sensitivity with mucho sustain.
"Sweet Switch" for some extra sauce.
Speaker Compliment……………12'' Celestion Greenback options include…..Jensen, Weber, Warehouse Covering……………..Rough Brown Tolex, Grill…………………….Oxblood

Museum Pieces

1965 Silvertone 1483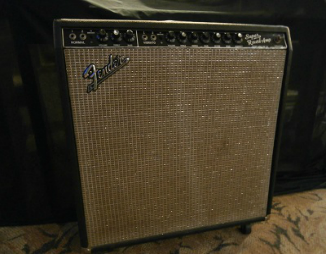 1965 Fender Super Reverb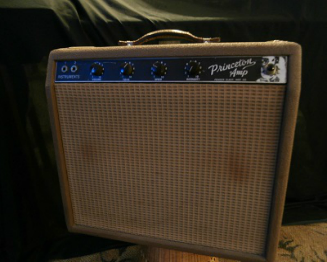 1962 Fender Princeton
1957 Premier 88-N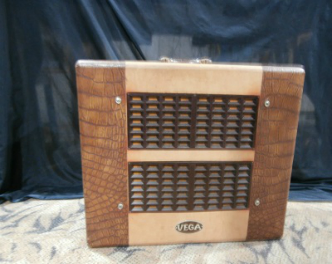 1956 Vega