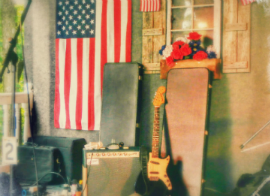 "Jorewiky Amplification", aka "The Sound Doctor". Specializing in maintenance, repair, and restoration of tube amplification. i.e., mods, de-mods, custom work, and rebuilds including Fender, Ampeg, Marshall, Gibson, Vox. Authorized repairman for GENZ/BENZ, and Mesa Boogie.


"Jorewiky Amplification" - Supplier of "Jorewiky" tube amps. A boutique amp business backed by 30+ years experience.


"Jorewiky Amplification" performs maintenance, restoration and custom modifications on all makes and models of audio tube amplifiers including Fender, Marshall, Vox, Gibson, and Hiwatt. Customers are invited to call and discuss repairs, pricing and logistics to and from our facility in Pennsylvania.

Current accounts are with: CE Distribution, St. Louis Music Mojo, Grainger, Mouser, Digikey, New Sensor and Hoffman.


"Jorewiky Amplifiers" are solidly constructed, extremely roadworthy, readily serviceable, and produce a purity of tone that cannot be found in mass produced production tube amplifiers. Our cabs are constructed of solid 3/4" finger jointed pine for overall strength and pristine tonal quality. Best of all, our amps are built in the U.S.A.!

A Special Note To Vintage Amp Owners . . .
Our philosophy of repair concerning vintage amps is to maintain as much of the vintage magic and mojo as possible. We will only recommend replacing those parts deemed necessary. Other techniques are sometimes used by techs without the patience, skills, or equipment to troubleshoot down to the single component level. Don't trust your vintage Amp to just anyone! The Doctor is "IN" - And ready to cure what Ails Your AMP!